Wolfenbüttel, July 4th 2018 – Mast-Jägermeister SE became a shareholder in GIN SUL on 1 July 2018. This move gives the distillery in Hamburg's Altona district, founded in 2014 by Stephan Garbe, access to a strong partner with global presence and success.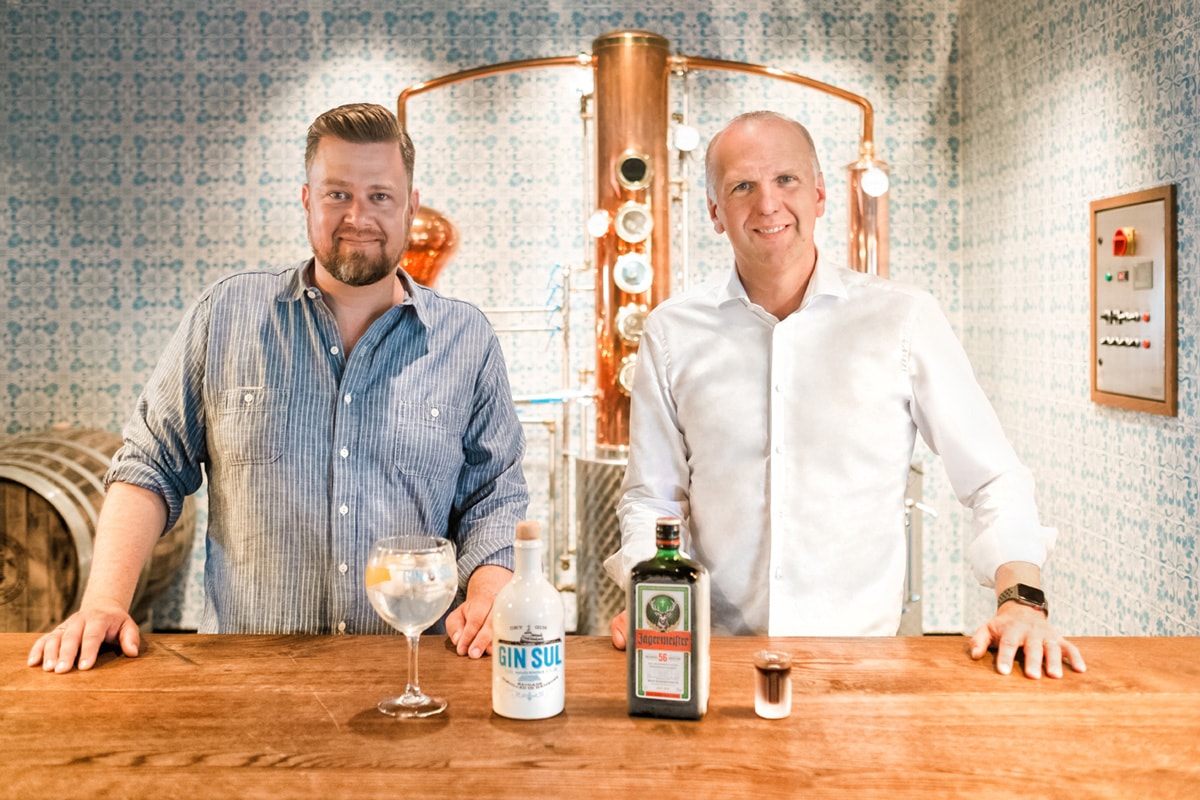 Subline: "Stephan Garbe, Founder of GIN SUL (left) and Michael Volke, Chief Executive Officer of Mast-Jägermeister SE"
The Hamburg gin in the iconic ivory stoneware jug is regarded as a success story of the growing craft movement.
GIN SUL founder Stephan Garbe states, "As a relatively young company, in order to someday also be successful abroad, we need an experienced partner at our side. I always knew that only a family company would be able to understand the heart and soul of the GIN SUL brand and for me, Jägermeister is that company. We now have a once-in-a-lifetime opportunity to learn from the very best."
For the leading herbal liqueur manufacturer Mast-Jägermeister SE, this is the company's first strategic investment in an external brand.
Michael Volke, chairman of the executive board of Mast-Jägermeister SE explains, "GIN SUL is more than an outstanding dry gin in a distinctive bottle; it is a brand that inspires longing and desire. Such authenticity and passion are very rare and, in my opinion, that combination is what drives GIN SUL's success. I am certain that this partnership will result in great things and that we can both learn a lot from each other."
Florian Rehm, great-grandson of Jägermeister founder Curt Mast and chairman of the supervisory board, comments: "GIN SUL is the perfect fit for us. You can always feel the incredible commitment and dedication that goes into the work of the distillery team. I recognize that same level of enthusiasm and personal identification with the product in myself and in our company. I look forward the future and everything that we will create together."
GIN SUL
The Hamburg gin with roots in Portugal is strong proof of its creator's love for the beautiful European country with a window to the Atlantic. In the GIN SUL distillery in Hamburg's Altona district, the eight-member team uses fresh Algarve lemons and other fine ingredients to distil one of the leading premium juniper spirits in Germany. GIN SUL is bottled in iconic ivory stoneware jugs and currently exported to 13 countries. The Hamburg-based company remains independent. Founder Stephan Garbe will continue to lead GIN SUL as Managing Director.
Mast-Jägermeister SE
The family-owned company from Wolfenbüttel has been creating the world's topselling herbal liqueur for more than 80 years. Jägermeister holds a spot among the top 10 premium spirits brands worldwide in the definitive "Impact Top 100" list. Rich in tradition, the blend of 56 herbs, blossoms, roots and fruits is the only German spirit to have made it into the top 90 of this industry ranking. Jägermeister is currently distributed in 135 countries. International sales account for approximately 80 per cent of revenues.